Order of Elders and Deacons Retreat
April 1-3, 2019
Join the Elders and Deacons of the Texas Annual Conference for a time of renewal and fellowship.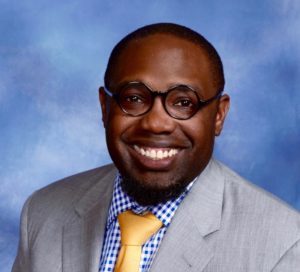 The Rev. Dr. Asa Lee
was born in Suffolk, England, and is the product of a loving home where his mother and grandmother instilled in him the values of pride and integrity that are guiding him through his life and ministry.
Rev. Dr. Lee was licensed by the Faith Shepherd Baptist Church of Washington, DC, and ordained by the Mount Olive Baptist Church of Arlington, Virginia, where he served for 10 years as the Assistant Pastor/Minister of Christian Education. Dr. Lee currently serves as the Associate Dean for Campus Life and Director of African American Church Studies at Wesley Theological Seminary. In this capacity, he is responsible for the programmatic, academic and spiritual life of seminary students. As the director of Wesley's African American Church Studies, Dr. Lee oversees the academic and vocational partnerships that serve students in the program.
Dr. Lee is a dedicated theological educator and believes strongly in education as the vehicle for expanding one's view of the world. He has served on the faculty of Northern Virginia Community College and is often a guest lecturer at workshops and seminars dealing with Christianity in the 21st century; religious difference; and issues affecting church leadership. He teaches courses in preaching, church leadership and spiritual formation. He is an experienced pastoral administrator and leader and aspires to help others to ground their own leadership in sound Biblical and theological convitction.
Rev. Dr. Lee completed the Doctor of Ministry degree in Educational Leadership at the Virginia Theological Seminary after having earned his Master of Divinity degree cum Laude from Wesley Theological Seminary. He completed his Bachelor of Arts degree in Music, Magna cum Laude from Hampton University. He holds membership in several professional and social organizations, including the American Academy of Religion, the Religious Education Association, the Association of Leadership Educators, and is a Life Member of Kappa Alpha Psi Fraternity, Incorporated.
Dr. Lee is married to the Reverend Chenda Lee, an Elder in Full Connection in the Virginia Annual Conference of the United Methodist Church. Together they have four beautiful daughters, Akeemah (Pronounced: Ah-key-ma), Jaanaiya (Pronounced: Jah-nye-yah), Cydah (Pronounced: Say-duh) and Camaini (Pronounced: Kah-may-knee).
Please Note: After submitting your registration you will receive a confirmation email from Lakeview in a few days indicating your housing assignment (based on your choices and availability) along with a link for processing an online bank card payment and instructions for payment by check.